---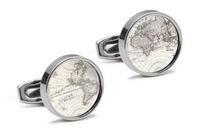 Nova Totius Terrarum Orbis Tabula (1684) by A. J. Bormeester
Delivered in 5-7 days. (In the United States)
If you wear shirts the majority of the time - out of choice or necessity - then jazz things up a little in the accessory department.
Each pair of cufflinks is carefully printed and come complete in a gift box. As each item is handmade, there may be some size and/or shape variations in the whaleback fastening of your cufflinks. This will not affect the way that your cufflinks look when worn, nor will it affect the functionality. 
As we hand-make our items, slight deviations are possible when centering your logo. Therefore we would recommend repeating your logo with our design tool.