---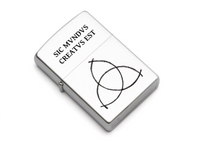 These smart Zippo® windproof lighters are Made in USA with Zippo®'s all metal construction, they exude class and style, and are the perfect alternative to a traditionally engraved lighter.
Frederick Kinski's Design is printed on one side of the Lighter.
Genuine Zippo® product made in USA
Hinged lid with distinctive Zippo® 'click'
Windproof and refillable
All metal Zippo® construction
Delivered in a presentation box and Gift-Wrapped if you choose to.